I want to install it in a place with vibration, is that okay?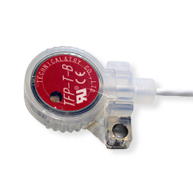 The TFP-T series has a lock type to prevent it from coming off the installation holder.
It is a specification that does not easily come off from the sensor body when it is vibrated or caught by a cable.

In addition, the TFP-T series is equipped as standard with a "holder removal function" that outputs a detection signal when the sensor body is removed from the holder.
The LED is mounted on the leak sensor body, and it lights green when it is normal and red when it is detected. Since it is a high-brightness LED, you can check it well in dark places.
Related products