Leakage Sensors : LUP series
Body material: P. P (polypropylene) Cable material: PVC (vinyl chloride)
Ultra small (φ 24 mm) Built-in amplifier(50 mA output) PNP output specification available!
Liquid detectable sensor
You can purchase these products at low cost!
Designation System
(A)
A→A type(Normal Open)
B→B type(Normal Close)
(B)
R→ NPN output
PNP→PNP output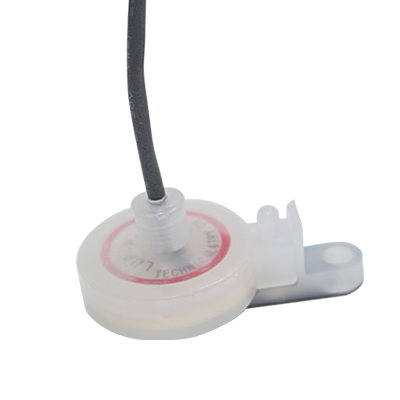 Specifications
Detecting Method
Infrared Photo-reflector
Detecting Output
Transistor Output A type: normal Open B type: Normal Close 50mA MAX
Detecting Speed
0.5~1Sec. (Pure Water)
Power Supply
12V~24V
Consumption Current
Under 25mA
Indicator
Nomal = LED Turns Green, Detecting =LED Turns Red
Operating temperature
-10~60℃
Weight
Approx.20g(Excluded the Cable)
Material
P.P(Polypropylene)
Cable
2Core Shield Cable(Material PVC)
Cable Color
Red:Power Supply
White:Output+
Shield:GND Common
Summary measure(size)
Sensor diameter φ24 Height 17.2mm
Please kindly perform the checking operation when exclusive holder installed.